Vintage dresses have increased in popularity in recent years, as people have come to appreciate the interesting styles and high quality workmanship in some older garments. "Vintage" is a label applied to clothing that is somewhere between passé and antique – generally at least a couple of decades old, but less than a century old, so the exact decades that would qualify an article as vintage change as time goes by.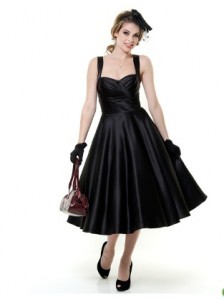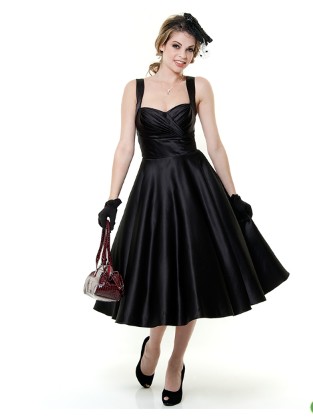 If whatever is in style this season isn't working for you, it may be time to go retro and look at vintage dresses instead. 1950s style dresses with cinched waists and full skirts are flattering for women who have an hourglass or pear shaped figure with a well defined waist. Those who are busty with comparatively narrow hips may do well with an A-line shape or empire waist from the 60's or 70's. If your figure is relatively straight up and down, you may look fantastic in vintage evening dresses from the 1920's, or some of the straight cut vintage cocktail dresses from the 1960's.
Vintage dresses can be found in specialty brick-and-mortar vintage clothing shops, as well as at consignment shops. Don't expect these vintage dresses to be cheaper than new ones just because they're second hand, though. A patient bargain hunter may still find some beautiful pieces, priced at a fraction of what they're worth, amid the random castoffs at garage sales and thrift shops, but the key word here is patient. You'll have to rifle through a lot of racks of "attack of the mutant gardenias" and "moiré monstrosity in fushia and yellow" to find a gem or two.
Buying vintage dresses online through websites such as eBay can be another way to find good bargains, but it can also be tricky. It is difficult to judge the condition of the fabric and seams by looking at a picture, though a good seller will provide reasonable quality pictures of the front and back of the garment, and note any defects. It may also be hard to tell whether vintage dresses will fit when sizing information doesn't conform to current norms, or is entirely absent. In general, dresses marked with the same size will be smaller the older they are, so if you're a size 8 now, and you try to squeeze into a 1950's size 8, you'll never get it buttoned. You'll need to know your measurements and the measurements of the garment in order to get a reasonable idea of whether it will fit.
Vintage wedding dresses deserve a special mention. Since wedding dresses tend to be worn only once by any given owner, many vintage lace wedding dresses are in excellent condition, although delicate lace is easily damaged and should be inspected carefully for imperfections. Depending in part on storage conditions, older dresses may be slightly yellowed, but if you take care to match the rest of your attire with the dress, this may not be noticeable. (When storing a wedding dress, it is best to place it in a box lined with acid free materials, and avoid humid locations, like basements.) Vintage wedding dresses in good condition can cost you anywhere from about $300 for something simple from the 50's or 60's to $2000 or more for a dress from the 1920's or earlier. However, before you go shopping for vintage dresses, find out whether your family or your fiance's family has an heirloom dress that might look lovely on you, and have sentimental value in addition to aesthetic appeal. I wore my great grandmother's exquisite Edwardian lace dress, and all it cost was the price of a replacement for a sash that had gone missing.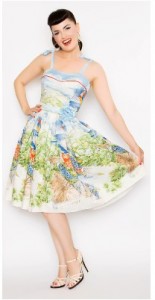 As a final note, due to increasing demand for a limited supply of vintage clothing, vintage inspired dresses – new dresses styled after fashions of decades past – have become more common. Sometimes, these dresses are described as vintage dresses, even though they technically aren't. One good clue that something may not really be vintage is if the seller is offering the same thing in multiple sizes. Of course, multiple sizes can be an advantage, particularly if you're looking for larger sizes, since people used to be smaller, on average, than they are now. Another advantage of these vintage style dresses is that they sometimes come with a lower price tag than similar vintage dresses in good condition.
Both of the wonderful dresses on this page can be found by clicking on the banner below and visting Unique Vintage. Unique Vintage offers a lot of wonderful modern vintage dresses, authentic vintage dresses as well as modern fashions. I highly recommend them for many reasons but most of all because of the their unique fashion sensibility.