Mermaid wedding dresses are increasingly becoming a popular choice for brides. These romantic dresses are perfect for a bride who wants to show off her figure, and they are available in many variations. For a sexy but not-too-revealing look or a winter wedding, a bride can opt for a long-sleeved mermaid with a high neckline. A strapless sweetheart-cut neckline is a great option for the bride who wants to reveal a bit more skin but display chic style and class.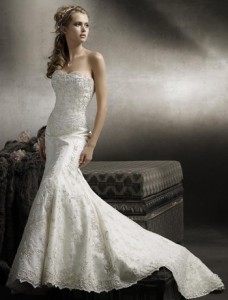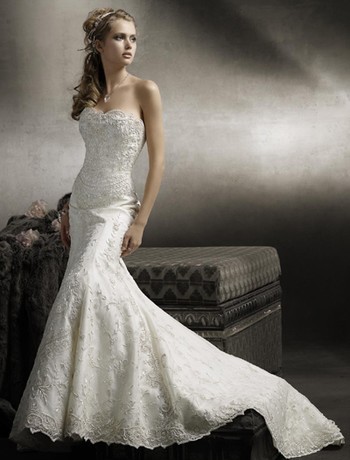 WHAT IS A MERMAID STYLE WEDDING DRESS?
The name mermaid (sometimes called fishtail) comes from an accentuated flare design on the bottom of the skirt. This flared skirt, along with the figure hugging upper portion of the dress resembles the silhouette of a mermaid.  These gowns are a throwback to glamorous designs of the late 50's & early 60's, an era when women embraced and proudly accentuated curvaceous figures.
Mermaid wedding dresses give a very romantic feel to any wedding. This dress style is perfect for an elegant, contemporary wedding. If you want a more fairy-tale ceremony, then you should consider the ball gown style, also called Cinderella dresses.
BEST BODY TYPES FOR MERMAID DRESSES
This gown style is best suited for toned, hourglass figures. Women who are bust-waist-hip proportionate look wonderful in these gowns. Such a dress will emphasize the bride's womanly curves, but even if you are very slender, mermaid wedding dresses can be tailored to your body so that you look your absolute best on the big day.
For the slim bride, a sweetheart neckline can help create the look of curves. Tall, svelte brides look sleek and elegant in the long-sleeve versions.  Mermaid gowns can also be flattering for shorter women, so long as the short bride has a suitable figure. The line of the dress can make a short bride appear taller.
When adorning a mermaid gown, a woman with a larger bottom and small busts will give the illusion of a fuller breast area if she chooses a strapless sweetheart mermaid wedding dress. This is due to the waistline reduction created by this style and the heart-shaped cut above the bust. If you are apple-shaped (bust and stomach is larger than hips), avoid mermaid style wedding dresses, as the style will make you look larger, rounder, and shorter than you are.
STYLES AND FABRICS OF MERMAID WEDDING DRESSES
Mermaid gowns are figure-huggers that are usually crafted from materials that tend to hold the integrity of the dress's shape.  Draped silk and satin are excellent fabric choices for this style and they add an elegant and sophisticated touch.  The smooth of look of silk or satin allows the eye to easily flow over the lines of the gown.  Draping ads to this effect.
If you want to go for more of a retro look, choose a dress with lace detailing, embroidery, or a lace sheath. This will instantly give your wedding a more romantic feel.
Ivory mermaid wedding dresses are the most popular color choice of brides when choosing this type of dress. Ivory is a traditional wedding color and is a great approach for this style of gown. The ivory tone allows the silhouette of the body to be the focal point. A classic white may overshadow the shape of the body in dress. A bright white along with a fishtail shape could seem a bit overwhelming to the eye.
If you decide on this style of gown, be sure to have it properly fitted. These dresses are meant to be very form-fitting, but not tight. If too snug, some of the charm and elegance of the dress will be sacrificed. When choosing a mermaid gown, keep in mind that with the right length, there may be no need to buy a second dress for the reception, as mermaid wedding dresses will easily transition to any post wedding events.