A perfectly shaped bride-to-be has this one good asset that makes finding her wedding dress quick and easy. However, if you have a huge waistline or you want to achieve that hourglass shape, choosing empire waist wedding dresses is a perfect way to get what you wish for. An empire wedding dress is perfect for women of any shape. It highlights your bust, makes your waist look much smaller, and creates a taller look. You do not have to go on a diet to achieve that hourglass shape you have always wanted. With its highly feminine appeal, this stylish fashion wedding dress is ideal for any bride-to-be. You will definitely look good and well-shaped with your empire waist wedding dress.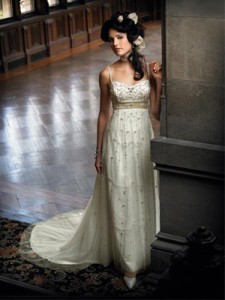 How Does An Empire Waist Wedding Dress Help You With Your Shape And Height?
For many years, women prefer an empire wedding dress for it helps to enhance the shape of their body. Empire waist wedding dresses perfectly fit women of any size. Whether you are stout, petite or have a disproportionate body, it does not become a problem. A wedding dress with an empire waist cut is snug at the upper chest portion and flows loosely from the bust to the bottom area. It will make an illusion of a huge bust and a small waist, creating an hourglass figure.
Which Body Type Is Best For Empire Waist Wedding Dresses?
Empire waist wedding dresses are suitable for all types of bodies. Here is how it helps.
Hourglass – You have a big bust, a tiny waist and a big bottom. The curves are perfect in the right places. Empire waist wedding gowns are good for you. It will highlight your bust and hip area all the more.
Pear Shape – You have a small bust and a larger hip or bottom area. The body is obviously not balanced. With the empire-cute dress, your wide hips are hidden or minimized. It hugs your small parts; and the skirt loosely falls to make your hips appear smaller and make your body appear proportioned.
Full Figure – These are brides-to-be who have a big bust, a big stomach and big hips. Obviously, they do not have any curves; and their bodies appear to be round like a ball. Of course, they would want something that gives them a curve to be recognized as their waistline. The empire waist dress will give them the curves they have always wanted. Due to the empire waist cut located just right under the bust, the style will create an illusion of a tiny waist. It will hug their huge busts and highlight them.
What Are The Advantages Of Empire Waist Wedding Dresses?
Because it has an elongated look, empire waist wedding dresses are suitable for both tall and short women. It adds an illusion of height that seems to lengthen your body. Empire waist wedding gowns are also great for brides-to-be with curves. Not only does it have a slimming effect, it also emphasizes your best assets. Though it is flattering to see a sexy woman wearing a tight-fitting wedding dress, you may however want to hide other curves of your body. The empire waist cuts just under your bust and hangs loosely. It will not only give you a great balanced shape but also a feeling of comfort when worn. Unlike those tight-fitting wedding dresses, you can move comfortably when wearing this. If you do not have a good body shape and you obviously have unpleasant curves though, this cut is not very becoming for you. These are perfect just to hide or minimize your stomach.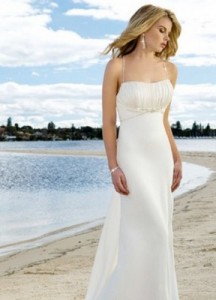 Women prefer empire waist wedding dresses since it compliments all body types. It also emphasizes the wealth and status of a woman in the years past. Today, brides-to-be go for a wedding dress that will make them look good and comfortable. So before you take your final pick, you must make sure to be at your most comfortable when wearing it. Just enjoy and cherish the moment of your wedding day. For sure, you will be the happiest bride in town.
[DISPLAY_ACURAX_ICONS]