Whether it's a simple get-together party or a grandiose birthday celebration, one shoulder dresses never fail to capture the crowd's attention. These dresses are perfect for any occasion, be it a formal or casual event. They expose just the right amount of skin for a sexy look without being too daring. But of course, such dress has to hug each of your body's curves nicely. Otherwise, you'll end up becoming a disaster.
Price Disclaimer
Seeing someone with the right dress but the wrong body is a usual spectacle in the red carpet. These celebs often make it in the news, but they won't like how the story is told. Certainly, you don't want to be the talk-of the-town being a failure in fashion. So if your option includes one shoulder dresses, then choosing the most gorgeous chic single-shoulder dress should not be your priority. Don't worry; there will surely be one that's fitting for your exact figure.
Single shoulder dresses usually have complicated collar lines, which don't always complement with all body types. The first thing you need to do is try the dress on. If you're comfortable with it and you find the dress flattering, more likely than not, its right for you.

If it is the designer element that you're seeking for, you should start with choosing your preferred dress color. Just be sure that the dress fits you perfectly without being too snuggly around the middle and chest area.
One shoulder dresses could also be seen with more dimensions through ruching. This particular sewing technique gathers ribbon or fabric and forms a pattern that looks like scallops, petals, or ruffles. Ruched dresses are perfect for leaner women, but other body shapes could still pull this off gracefully.
For petite women, the ruching should focus on one spot of the dress for accentuation and not all the way through, as this would make them much smaller. Apple-shaped women or those with larger midsections should stick with ruched empire waist one shoulder dresses.
If you are a pear shape, you may want the bottom of the dress to flare out. This masks the actual size of your bottom and makes your figure seem a bit more in the right proportion.
Pairing your dress with the right strapless bra is also essential. Ditch your fancy colorful bras that may ruin your overall look. For dresses with low backlines, it's best to go with stick-on pasty bras that are easily found in various lingerie shops.
Keep in mind that one shoulder dresses are most elegant as long as you keep your overall look simple. They are meant to show off your shoulders, so you wouldn't want anything else drawing more attention.
The only things you need for accessorizing are a lovely bag and a good pair of heels. If it is a one shoulder ruffle dress, a bracelet, clutch, and closed-toe pumps should finish your overall look with class. In case you want to go for jewelry, a good pair of flashy earrings or a stylish bracelet is enough. Post earrings create a simple yet elegant look, while dangle earrings are better worn for lavish jewelry accessories. For your arm accessory, an arm cuff would give an exotic look.
Necklaces are great accessories for many dress styles. For one shoulder dresses, however, they are one of the great no-no's. Well, most necklaces, that is. More likely than not, they will draw too much attention that should've been meant for your shoulders, creating confusion instead of adding sophistication to your overall appearance.
One shoulder dresses don't pair quite well with pendants, medium length necklaces, and wooden necklaces, which are particularly too casual for any type of one shoulder long sleeve dress.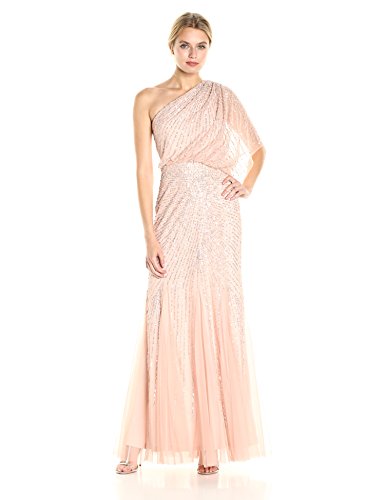 However, if you'll wear a one shoulder long sleeve black dress and are persistent on putting something on your neck, a Y-necklace or a choker will do. A Y-necklace does not lose in the material of the dress, while a choker draws attention to your face without meddling with the angled neckline.
There are a wide variety of styles and designs for one shoulder dresses available in different boutiques and online shops. But you need to remember that how it appears when worn greatly depends on you. So the next time you are thinking of wearing such dress, be sure enough that dress is the right fit for your shape and you accessorize with the right amount of jewelry.