Plus size women often complain that getting the right gowns and dresses that fit properly is a big problem that has not been addressed by most designers. The problem is particularly severe when they try to find the right party dress. For such women, comfort and elegance are the two most important aspects when it comes to choosing party wear. While designing plus size cocktail dresses, designers must therefore, pay attention to these aspects as oversized women have different requirements.
In the last couple of years, a lot of designers and retailers have started to realize the growing market for plus size apparels. This has created better options for the plus size ladies who earlier found it difficult to get the perfect party dress. According to stylists, plus size women should ideally go for the velvet cocktail dresses. These dresses are both chic and elegant. Velvets with jewel tone work are especially recommended for the full figured women looking for the right plus size cocktail dresses. While selecting the velvet cocktail dresses for plus size women, it is important to look for dresses with empire waists, deep scoop necks and flowing skirts. Such dresses flatter the full figured women, making them look classier.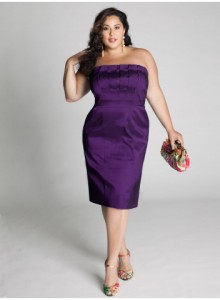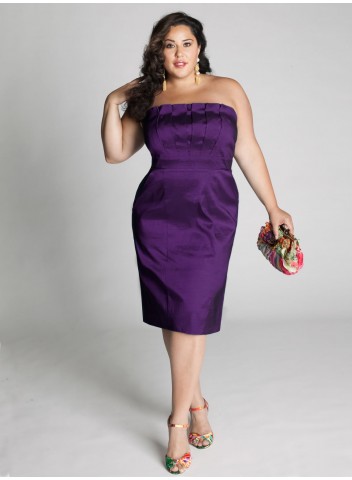 Plus size cocktail dresses from the bygone era are also a major hit among the overweight women. In the 50s and 60s, cocktail dresses became a huge hit because of their elegance and beautiful designs. These retro gowns are known for their accents such as silk shantung and taffeta skirts. For women who have shapely legs, these dresses are the best option. To accessorize them, it is great to go for open toe heel shoes that are comfortable and stylish. Furthermore, it is advisable to avoid pairing them up with stilettos.
For women who are not afraid to highlight their curves, strapless plus size cocktail dresses are quite popular. Contrary to popular belief, strapless cocktail dresses look good even on the full sized women who can carry them off. While selecting a strapless plus size cocktail dress, it is recommended to wear a strapless bra under it to feel confident about wearing it. Those who are not very comfortable about showing skin can accessorize with a small jacket, shawl or shrug.
Those who want to stick to the traditional plus size cocktail dresses, the classic black dresses are the best option available. Classical black dresses have been extremely popular because such dresses tend to make plus size women look slimmer and more slender. Plus size cocktail dresses with sleeves help a lot in hiding the unflattering arms that are often embarrassing for oversized women.
While buying a cocktail dress, it is also essential to remember that wearing oversized dresses does not help in hiding the full figure. Instead, it is important to identify the problem areas and wearing dresses that can conceal them. For example, high waist dresses help to shift attention from legs and thighs. Likewise, those who do not want to attract much attention towards their chest area; going for a dress with long look is a good alternative to get the perfect look. The neckline is also an important area that calls for a lot of attention. The straight neckline does not highlight a heavy bust area whereas a deep v neckline can help in shifting attention from the waist.
Wearing the right cocktail dress also helps in getting a taller frame. However, it is recommended to avoid cocktail dresses with horizontal stripes. This is because dresses with horizontal stripes tend to make full figure women more obese.
By wearing the right cocktail dress, plus size women can look great and slim.