When shopping for plus size dresses for special occasions, keep in mind a few key things; first, pay attention to your body type. Women who wear smaller sizes have to remember this rule, as well, but not as much as women who wear sizes 12-14 and up. Second, be aware of what colors and lengths complement your height and complexion, and never buy a dress that is too small or too tight.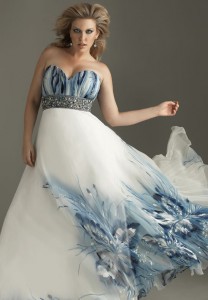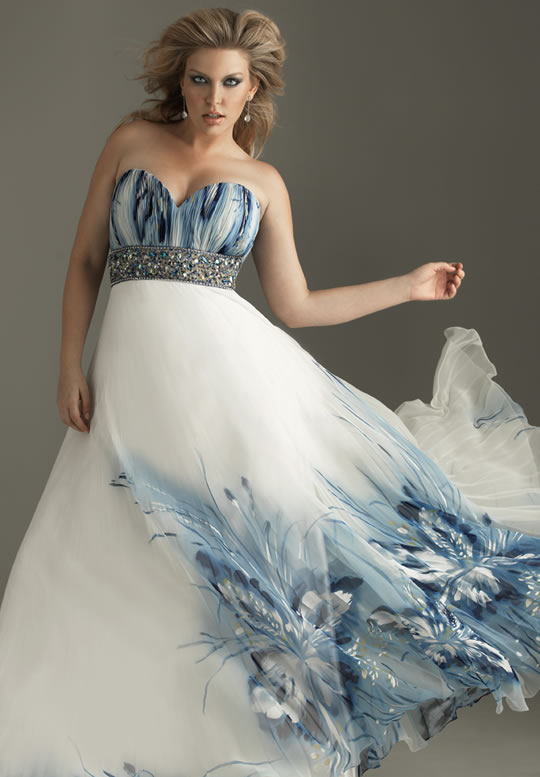 BE AWARE OF YOUR BODY
It is well-known that almost all women are very body-conscious, but when shopping for the perfect dress for a special occasion, voluptuous women must be more aware of their body type. Sometimes women look at themselves in the mirror every day, but begin to miss important factors that are key in dressing for their body style.
Plus size women can be split into 3 main body types.
ENHANCING APPLE SHAPES IN PLUS SIZE DRESSES FOR SPECIAL OCCASIONS
Apple Shapes have a larger upper body half. The midsection and shoulders tend to be wider than their hips, and the waist is full and undefined. The best formal dress style for apple shapes is one that draws attention away from the midsection. A gown with a wrap-type top is great on apples. The skirt of the dress should always flare at the hem, and if you can draw attention to your legs or bust area, if possible. Tulip skirts are also an excellent choice for women with apple shaped bodies.
PLUS SIZE DRESSES FOR SPECIAL OCCASIONS & PEAR SHAPES
Pear Shapes are those with a smaller busts and upper bodies, but large legs, hips, and bottoms. When choosing a perfect special occasion dress for this body style, opt for a strapless empire waist or an A-line. The smallness of the upper body allows for an embellished bodice, so go for ruffles, beading, or sweetheart cuts. The empire or A-line will accentuate the waist and minimize the hips and thighs. If you have a pear shape and a flat or small tummy, a fitted mermaid gown will enhance your womanly curves while evening out the small bust area.
THE BEST PLUS SIZE DRESSES FOR SPECIAL OCCASIONS FOR THE HOURGLASS FIGURE
The hourglass is the coveted shape of most plus size women. This body is characterized by a small waist with curvy hips and bust area. It is a very evened-out body style, so a mermaid or trumpet style evening dress is a perfect choice for this body type. Pencil skirts also define the beautiful curves of an hourglass, but A-lines and ball gown styles, look great on this body, as well. Hourglass figures should avoid frills and bows, as the all volume. High necklines, batwing sleeves and unstructured dresses should also be avoided.
THINK OF YOUR HEIGHT AND COMPLEXION
Try to keep in mind your height when choosing a plus size special occasion dress. A short woman should avoid mid-calf and tea lengths, as they will make her appear shorter. Tall women need to pay attention when trying on full lengths, so as they don't become too short when paired with heels.
Try to avoid shades that will take away from your eye and hair colors. Take the dress to a mirror and hold it up to your face. If your eyes pop, your hair looks shiny, and your skin looks healthy and glowing, then the dress is right for your complexion. If your reflection looks dull and washed out, then do not even try on the gown. Getting the coloring right is the first step to looking great in your plus size special occasion dress.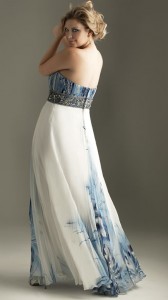 MAKE SURE IT FITS
Never buy a dress that is too tight with the idea of losing weight to fit in it. Being fuller-figured means attention will already be on you when you enter the room in your gown. If the dress is too small, don't buy it. If it is too large, then make sure it is tailored to fit your body before wearing it. Plus size special occasion dresses should never be ill-fitting.
When buying plus size dresses for women, following the rules are important, but the most important thing is that the woman feels good in the dress.