Who says swimwear are just for skinny girls? Stop being reserved and it is time to flaunt those curves and be proud! The garments industry has evolved and has become more sensitive to the needs of the women of today. They have explored and took risks by introducing plus size swimwear in the market. In reality, risk turned out to be a good idea after all.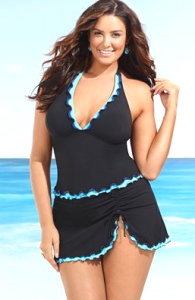 For the record, plus size clothing refers to clothes of sizes 12-24. These clothes are those, which are not usually displayed on department store racks as these are specially made to fit fully figured women. So technically, these are the sizes that excludes small, medium, large and extra large. The first plus sizes clothes were marketed way back in 1980 by Max Mara, the Marina Rinaldi. Some of the famous stores of today that offers a wide array of plus size clothing for women are H&M, Forever21+ and Lane Bryant.
Nevertheless, the fashion trend for plus size clothing has made its way to the lime light over the years and is still growing up to now. Different clothing lines have included plus size swimwear for women on their brochures and magazines. In fact, it has sprouted very quickly everywhere invading even the internet and some social media sites. It also gave birth to different online shops that offer women's plus size swimwear in different sizes and designs. As this trend continually grows, more and more clothing lines are starting to offer plus size swimwear too.
Many folks have been stereotypes about a person being plus size. Big t-shirts, leggings, baggy pants, this is how a typical person may think of how a plus size woman would dress. So maybe this is the right time we change the perspective of people about being a plus size and let us start with plus size swimwear for women.
Just recently, a blogger of the screen name GabiFresh has lured out thousands of plus size audience to take pictures of them being confident wearing women's plus size swimwear. She encouraged them to show off and be proud of their bodies in swimwear without being apologetic. She has proved to the world thru her blogs that the word sexy is not coined to skinny girls only but to plus size women too. It can later be said that plus size women is the new sexy. She also has created a term for this breakthrough and called the swimwear a "fatkini" which her audiences really find very irresistible.
Designers have started to venture out creating effective designs to exhibit the real beauty of plus size women emphasizing on the curves and covering the bulges. In addition, with this, the society has learned to accept that plus size women in swimwear are just normal. After all, sexy is not about having a shapely body but it is how your confidence level meets your intellectual capacity to walk the streets being proud not thinking what others may say about you or how you project yourself.