The winter season can be really cold for everyone. It can make going out and going around more challenging because the cold may penetrate through your skin. However, fashion will always have something for you and other women so that you may combat the cold and go through your day the way you always do while still maintaining your unique fashion statement.
Aside from clothes and jackets for the winter season, you can also use snow boots for women. Womens snow boots come in different styles. That is why if you are a fashion enthusiast, you need not worry about pairing it off with your outfits. Various styles and colors are available in the market.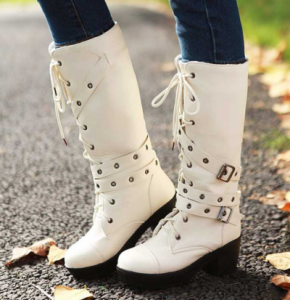 Quite obviously, winter boots for women are made to protect your feet from the cold. However, when choosing the one that suits you best, you need to know more specific factors for that. The task that you will perform while wearing it. Are you going to shovel snow or are you going to walk around the city? Are you going to ride a bike or just going to take the dog out for a walk? These things need to be considered too. If you are going to drive, you are discouraged from getting the cement overshoes as these can prevent you from the feeling the gas pedal, making driving difficult. How long are you going to stay outdoors and will you be going near any body of water? If so, you need to refrain from getting boots with shoelaces, eyelets, and zippers are water may seep through it, as well as cold air. If you prefer to wear your pants tucked inside your boots, then consider leaving some extra space for that.
There are various ways to wear your snow boots. Make sure you consider these tips. Wear leggings or skinny jeans with your boots to allow it to easily be tucked inside your pants. Straight cut or boot cut jeans will wrinkle and may be difficult to arrange underneath the boot. If your boots fit too snugly, wearing three-fourth-length skinny jeans may be better than full-length skinny jeans. This is because it would be difficult to walk if the boots are too tight in the calf area. You can accessorize your get up with a scarf around your neck. It is casual but very elegant at the same time. You should choose a top that is fitted or one that has a turtleneck style. The bulky feature created by women's snow boots is balanced out by the fitted top. To create a more casual look, you can also wear a long sleeved hoodie that will also keep you protected from the cold outside, making you enjoy your winter days more.Always wear winter snow boots that have the perfect fit.
Winter boots are not only for protection from the cold. More than that, it is also presentation of your fashion taste and statement. Let it work for you and make you even more fashionable during the cold season.