Did you ever wonder, while you're sitting by your window, watching the rain, eating ice cream–or any comfort food for that matter, if the past truly rewinds itself? Does it somehow make it past the "been there, done that" attitude that people incorporate in themselves? Do you ever imagine yourself going out again with that dorky guy you dated in high school, who asked you out in way of putting an a dorkable poem in your locker, and who sits by himself on the benches near the gym to check for signals coming from life in outer space?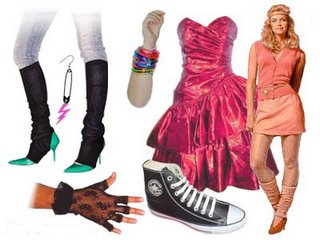 Right. Of course not.
Well, what about going back to the 80s and wearing all those 80s clothing? Oh, you know those 80s fashion trends. Back then, have the huge blow-up hairdos, the chipmunk eyes, layered socks, over sized shirts of dry colors, wayfarer sunglasses, a pair of Chuck Taylor's, neon leggings, ankle socks, and even leg warmers and you are good to go! The one who has the messiest chic look would rock the party!
Now imagine yourself going to a party wearing that very messy chic look of the 80s. What do you think would happen? You'd make a spectacle of yourself, that's what.
But little do you know that 80s fashion for women has slowly crept its way to the contemporary fashion trends. The reappearance of leggings, jeggings, and skinny jeans has actually started it all. Skinny jeans have actually beaten the youth's favor of trouser jeans this past five years! Straight leg jeans used to be the rock star's uniform until colorful skinny jeans met the market.
During the 80s, the large sized clothes were pretty much in rage. Over sized boyfriend blazers with super puffy shoulder pads, over-the-waist length shirts–you name it, the 80s have it. Now, actually, boyfriend blazers are staple clothing. Boyfriend blazer lost their way during the early 21st century. But the past three years, the boyfriend blazer with appropriately proportioned shoulder pads is a simple way to look chic and slightly sophisticated. Another trend is tunics over leggings–which is very informal attire and is just used for going out with friends for lunch or shopping.
So no doubt about it: 80s fashion for women is back! But not entirely because of a little help of modern styles, of course.
So what is the difference between then and now, you ask?
The materials used back then for jeans were unforgiving things. Unmerciful. They have a relatively rougher texture than what we have with our jeans today. The denim was paper-like thin with not an element of elasticity in it. The color was unflattering–too faded that accentuates bodily curves a little too much. But now, we have jeans that are stretchable, softer, and much more comfortable. They would fit you like a glove and still feel like a pair of sweat pants.
The 80s clothes for women makes women and their shapes look a little masculine and definitely unappealing. Tops were very geometrically straight yet less narrow at some edges. Today, over sized tops come with more specialized tailoring that emphasizes feminine curves well. They show the curves at the midriff more, thus, giving women's waist a little highlight. Even the little details of spikier shoulder blades and fitter chest lines are added to dresses and blazers.
Even the shoes of the 21st centuries are affected by the 80s. Pointed heels very much in rage today, especially because they go great with trouser slacks–and trousers slacks are wardrobe staples. Chuck Taylor's are actually pretty much in rage. But, of course, they are now pretty much modernized. The Converse Chuck Taylor All-Star Monochrome is a perfect example.
So, to sum it up: Yes, the 80s are back–with a lot of corrections of the 21st century.