Animal print fabric has been around for much of the 20th century, and into the 21st century. Although its popularity has waxed and waned, it's never gone completely out of style. Today I'd like to focus on one animal pattern: the zebra. Zebra print dresses can be either bold and flattering, or disastrously hideous. Since they're so popular this season – this print has been making its appearance on everything from casual sundresses to prom dresses to accessories – here are some suggestions for how to make zebra print dresses work for you: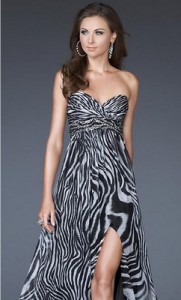 Do break up the stripes with solids. Give the eye a rest by wearing, for example, a plain black skirt with a zebra print top. Other good bets include a black or white purse, or color coordinated accessories, such as a matching red belt and shoes with a zebra print dress. Fushia is another popular color to pair with classic black and white zebra dresses. Another good choice can be to wear a solid color, and spice your outfit up with a zebra print scarf or handbag.
Don't overwhelm people with too much zebra madness. Zebra prints are kind of busy, which means that other elements of the dress should be elegantly simple. Nice clean lines and sleek shapes are good. Poufy sleeves, frills, ruffles, lace, and zebra striped bows should be approached with caution. The size of the dress is important too. Little sheath dresses in zebra print can be cute, but great big zebra print dresses with ankle length, full gathered skirts, and long sleeves, give us a headache if we have to look at them too long. When it comes to zebra print dresses with a lot of fabric, breaking up the stripes with solids is especially helpful.
Do experiment with unnatural colors. Zebra print dresses need not be black and white. After all, you're not trying to fool people into thinking you're wearing real zebra fur. Bright or pastel colors in place of black, white, or both can put a fun twist on this classic design. Some very attractive prints use gradations of colors, in combinations such as blue and purple, to replace the black or white stripes. Differences of texture between the stripes can also add interest. Zebra stripes may even look good rendered in sparkles or sequins on a cocktail dress.
Don't combine a lot of animal prints, especially not a bunch of different zebra prints. You wouldn't wear a striped blazer with a polka dotted blouse and a plaid skirt, so why would you consider wearing a zebra print dress with a leopard spotted belt and faux-snake skin leggings? You'll see it sometimes, but we think it's a bit much. Some prints include multiple animal patterns in the same design, and these can look okay in moderation. If you want to echo the stripes of a zebra print dress with coordinating shoes, instead of shoes with zebra stripes of their own, try black strappy sandals.
Do wear your stripes diagonally. Very thin women can get away with zebra print dresses in which the stripes are all horizontally oriented, but the common wisdom regarding regular stripes also applies to zebra stripes: vertical stripes are slimming, but horizontal stripes tend to make you look fat. Zebra print dresses for women who aren't shaped like fashion models (in other words, most of us) are often the most flattering when the stripes are diagonal. This way, the stripes can hug and accentuate your curves, without making you look like a honeybee. Thin women look lovely in diagonal stripes, too.


As a final note, if you have a complexion that looks best with warm colors, you may do well to consider tiger prints as an alternative to zebra stripes if you can find them. Even if zebra print dresses are a little trendier at the moment, remember this isn't ultimately about the dress; it's about how you look in the dress – and that goes for all of us, really.