Winter Women Dresses
Winter craze is just around the corner and is about to begin in a few days. Say goodbye to warm breezy afternoons and say hello to icy and chilling mornings. It is again that time of the year where boots and fury clothes are on the street. But another thing women love about winter is they get to wear their collection of winter wears. It is about time to open that winter wardrobe of fashionably and trendy pair of boots, fur jackets, shawl, sweater dresses and still the list goes on.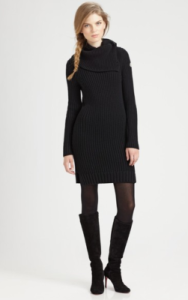 So what are sweaters? Sweaters are typically knitted clothing to protect the body from cold. It is most often than not made from wool but there are also sweaters that are made from cotton and synthetic fibers. Its length, necklines and composition may vary including its sleeves. Sweaters are one versatile type of clothing as it may be worn on top of almost any outfit. For fashion trends, sweaters were not only worn on top of shirts or dresses but were also worn next to the skin. There are also sweater dresses that gives the comfort of both sweater and dress without needing for an under garment.
One of the simplest and commonly used winter wears are those black sweater dresses as it complements to almost anything. You can wear it going to the office, or to the grocery or to some casual parties. Black is some kind of a universal color wherein it blends naturally to anything. From tops to pants or skirts, coats to shoes and so on. It also displays some elegance so it might be a good choice for you. Another thing for black sweater dresses are it may connote a slimmer figure to those plus size women. It enhances the curves making a fabulous look perfect for any occasion. Black sweater dresses are the safest pair or clothing to any place pairing it with belts and boots, alas! Perfect indeed!
Turtleneck sweater dresses are one of the most popular outfits for winter. Turtlenecks are characterized by having a tube sock-like neckline or head opening. The cloth must be rolled until it fits the neck perfectly. Sweater dresses are most likely paired with boots or heels to emphasize more on the body curves. It has a fabulous look that catches the attention of anyone. In wearing turtleneck sweater dresses, you may also opt to add a belt or accessorize a bit. You can playfully tailor your outfit but always remember that too much is not good.
The season should not hinder you from being a fashion statement. Nobody is prohibited from being trendy so just strut your stuff and keep up. Do not be afraid to explore and experiment on the things you have not tried most probably the way you wear your clothes or what clothes you wear. Clothing is one of the ways to know a person, how he or she exhibits herself or himself. Being passionate about oneself is not bad just do not cross the limits that your almost bragging.