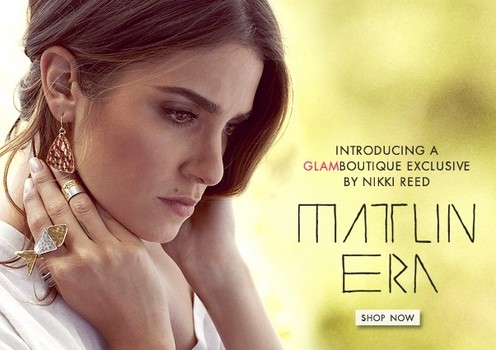 You may know Nikki Reed from the hit Twilight movies as Rosalie Hale, but now with the end of the Twilight saga set to debut this week, Reed is moving on to her next great adventure. It's of the opposite realm of acting and Reed will be moving on to jewelry design, which is actually not her first time doing.  In the third grade Nikki's first job was making bracelets with her mom and selling them to her friends at school!
This is Nikki's first jewelry collection and is called Mattlin Era, and is with Pascal Mouawad.  During her debut event she said "that every piece is so personal and has a story behind it," and even told The Insider that the jewelry's name Mattlin is her Grandmother's maiden name.  When asked what her inspiration for her collection was, with a big smile she responded that it was inspired by the people she loves most.
The collection is filled with silver and gold hammered pieces with a touch of a bohemian vibe.  The focal piece of the collection is a female version of a a bolo tie with a rose and leaf which was inspired by her very own husband.  Check out some of her collection below and let me know what you think!