Did you know that the average American woman is a size 14? Most shops sell, on the average, sizes 2 to 8 only. This poses a problem for the majority of women in the United States. When women need to attend formal events, they have a difficult time looking for plus size evening dresses as most formal gowns available in the market are designed for svelte and slim women.
Fortunately, major department stores such as Macy's, Target and TJMaxx carry in-house brands catering to larger women. Plus sized women need not be restricted to wear spandex or loose clothing anymore. These department stores feature wardrobes for larger women with modern cut accentuating their curves instead of hiding it. From sundresses to suits and plus size formal dresses, designers have now come up with more figure-flattering garbs for the modern American size 14 female.
Nordstrom carries a range of brands also catering to plus size women. Choices range from casual pieces to after dark wardrobe, such as plus size evening dresses. Elegant examples would be Xcape's Jeweled Matte Jersey Gown and Suzy Chin Faux Wrap Jersey Dress. These plus size evening dresses deviate from the usual long black frocks typically worn by larger women. These plus size formal dresses come in rich colors such as plum, turquoise, burgundy and lime.
Another department store catering to the plus-sized crowd is Salon Z, a collection of brands available at Saks Fifth Avenue. Saks carries luxurious brands and premier fashion designers including Michael Kors, Alexander McQueen and Yves Saint Laurent. Salon Z carries styles up to size 24.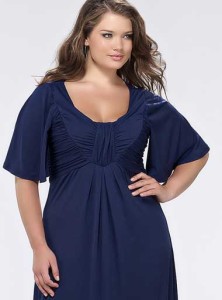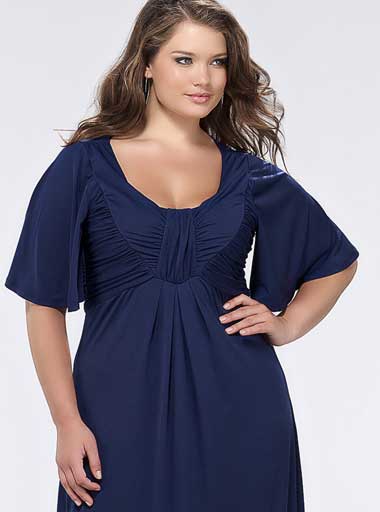 If you are looking for a more affordable set of plus sized garments, check out JCPenney. They carry a wide variety of casuals — Bermuda shorts, tank tops, short cotton jersey dresses in plus sizes, name it, they have it. Though the choices for plus size evening dresses are quite limited, JCPenney does have a few formal pieces for the big boned woman to wear.
No matter which clothing the plus sized woman wears, she will not look fabulous without confidence. Queen Latifah, who lost weight but still appears at a curvy size 14, looks fuller and sexier than most anorexic models. In fact, she recently launched a plus sized clothing line which changed the way larger women wear conventional wardrobe. Check her outfit out at VH1 Divas Celebrate Soul which was held in New York. She appeared in a stunning royal blue gown which truly said "real women have curves".