Before starting to shop for a dress, you should decide on the type of party you're going to have. How formal will it be? Will it have a theme? Will there be activities? This should narrow down the field a lot; a formal ball gown would look pretty silly at a luau and barbecue, for instance. Once you have this decision made, you're ready to start browsing dresses for sweet 16.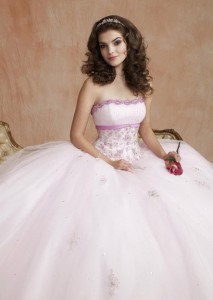 Your local shopping mall is probably a good place to start looking. You may want to check out some of the many online style guides for selecting dresses that flatter your figure before you go. Many prom dresses also make good sweet 16 dresses, so if you shop in the spring, you can take advantage of the huge selection of this year's prom fashions. Stores specializing in formal wear, including bridal boutiques, are also good places to hunt for that perfect dress.
Sweet 16 dresses should make you look fabulous, of course, but you should also be comfortable in whichever one you choose. The party won't be as much fun for you if you are bothered by a too-tight waistband and itchy sleeves, or you're distracted by a strapless dress that feels like it might fall down. And it's not much fun to dance in a dress that is only decent as long as you don't move your arms a certain way. When you're trying on sweet 16 dresses, walk around, dance, spin, raise your arms, hop up and down, sit down on the changing room bench, and see how the dress behaves. If it misbehaves even a little bit, keep looking.
If you're on a tight budget, don't despair, because there are ways to find beautiful sweet 16 dresses under 100 dollars. Sometimes you'll get lucky and find a good deal at the mall or bridal shop, but another possibility is to consider a second hand dress. Some people sell dresses they bought for special occasions, having worn them only once, so they're often in perfect condition. Visit consignment shops, or if you're a more patient shopper, you could even go hunting for a diamond in the rough at thrift shops. If your party has a retro theme, vintage clothing stores are excellent places to look for sweet 16 dresses.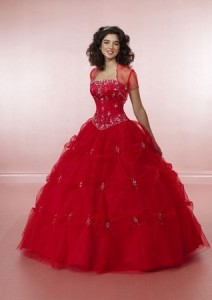 Sometimes great bargains are available online, and the selection is always huge. You can find many beautiful, cheap sweet 16 dresses with a few clicks of a mouse, but be wary of dresses that you haven't tried on. You've probably done enough clothes shopping by now to realize that something that looks perfect on a mannequin, and comes in your size, will not necessarily fit you properly. For some reason, though, many people seem to forget that when shopping online for prom dresses, wedding dresses, and yes, sweet 16 party dresses. If you do shop online, do it far enough in advance that you'll have plenty of time to either find another dress, or alter the one you bought if it isn't quite right. Remember to look at the seller's shipping information and find out how long it will take to get the dress. Also, check the seller's return policy before you buy the dress, so you'll know what to expect if you have to send it back. Another way to save money by buying your dress online is to shop for sweet 16 dresses at local stores, find a couple two that you like, and then look online for better prices on the same style.
Wherever you shop for sweet 16 dresses, don't let yourself get stressed out about it. Remember this is supposed to be fun. If you find yourself going crazy trying to locate a dress just like the one you imagined, and it doesn't seem to exist, take a break until you can start fresh with an open mind. It may sound corny, but happiness will go at least as far towards making you beautiful as any dress you can buy.