Ideally, mermaid wedding dresses, or serpentina wedding dresses are made especially for curvy, hourglass figures. The mermaid wedding dress is characterized by a tiny waist, round hips and a skirt narrowing down to the ankles which may or may not form a train, resembling a fish tail. Remember Beyonce? She would look perfect in mermaid style wedding dresses.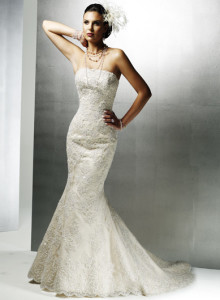 But what if you have a boyish figure — no hips, small chest and almost straight up and down? How would you pull off a mermaid wedding dress? The key is layering. Add a bit of volume at the top to hide your lack of lady lumps. Some ruching, pleating or ruffling usually does the trick. A bolero can also do wonders to hide a flat chest. Ever wonder why so many wedding dresses have heavy beading on the upper bodice? This is to make the bodice or bustier look much "thicker". Now you know.
Next, emphasize your waist. An obi belt is a great way to emphasize the waist. If the belt is in a contrasting color, it will make your waist even smaller. Imagine dark purple velvet belts on ivory mermaid wedding dresses — the result is breathtaking. One of the fashion designers famous for incorporating different colored belts on wedding dresses is Monique Lhuillier. Monique Lhuillier is a Hollywood-based designer catering to famous celebrities. Check out her Spring 2011 collection showcasing a number of waist enhancing belted wedding dresses.
Now to add volume to the hips can be quite tricky. Mermaid style wedding dresses are supposed to drape over the hips to emphasize it, and cascade on the legs as it narrows down. If you are lack curvy hips, choose a mermaid wedding dress that originally has a full skirt. To make it look like a mermaid wedding dress, have the designer gather the skirt and secure them at the back with some fancy lace, a ribbon or some other design. The fron will look as if the skirt was layered on flat but at the back, the skirt will add volume to your lack of bum.
Now that you know the best way to wear mermaid wedding dress, try to do some simple exercises, too, months before your wedding day. Do some simple push ups to strengthen the chest wall. With a stable chest wall, this helps the breasts look much perkier. Contrary to popular belief, push ups do not make breasts larger, but they do add a bit of volume and minimizes drooping or sagging.
Another exercise you might want to do are crunches. Crunches help tone the abdominal wall, making them contract and help in minimizing your waist line. Very much recommended especially if you plan on wearing a mermaid wedding dress.
Last is to do exercises which help in making your posterior look bigger. The gluteus maximus is actually a muscle, so certain exercises will indeed make them larger, even if you have a skinny body type. Running usually does the trick. Try to hit the treadmill for 30 minutes at least 3 times a week months before your wedding day and you will be bootylicious by the time you walk to the altar.