Jeans have been around in the fashion industry for quite some time now. These are pants made from denim or dungaree cloth, a sturdy hard-wearing blue-denim fabric. Jeans were once used around in the 1950's by cowboys. Later on, jeans became popular and were patronized by many mostly by teenagers. Jeans, as they become popular to different genres and cultures, came in different styles and fits including skinny jeans, straight-cut jeans, boot-cut jeans, low-waist jeans and anti-fit and flare jeans to mention a few. It just did not come in different styles and fits but in different colors too but the most popular was the blue jeans specifically prevalent in the American Culture.
Price Disclaimer
The jeans fashion has progressed and its innovations have been remarkable. Premium denims were released in the market. One of the brands released to cater different clothing needs of women retailers is the Not Your Daughters Jeans (NYDJ). It has a special feature, which is the Lift Tuck Technology, which controls the front part of your jeans while doing the lifting and shaping on the back. It has been specially designed by the founder to have a stylish look while not compromising its comfortable feel. It also caters to petite and plus size women. Not Your Daughter's Jeans' also has more spandex on it so it tucks the tummy area thus making the wearer look fabulous and slimmer.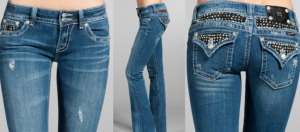 Founded and established in 2002 by Jeffrey Lubell, True Religion Jeans is an American clothing line that is almost marketed worldwide. They cater to women and men clothes line same as for kids. What makes their product unique and exquisite is because they are handmade. They not only sell jeans but they also have shirts, sweatshirts and sportswear. True Religion Jeans not only promises its customers a perfect fit clothing but of timeless style too.
Miss Me Jeans, another brand for premium jeans first launched in the spring of 2001. It aimed to reinvent the current style and taste of the modern women. They have designs perfect for casual, formal and nightlife wear to suit every passion or personality you may have. They are acknowledged for their exceptional designs and tailored fits, which are inspired by western and rock themes. Finest washes and embellished styles are also known for this brand. These premium pieces of cloth were also featured on some top fashion magazines such as Glamour, Elle and Teen Vogue. Not only it was recognized on magazines but was also worn by famous artists such as Miley Cyrus and Beyonce Knowles.
I always prefer quality to quantity. You will not appreciate your money's worth if your items do not last. At the same time, you cannot compromise style and comfort. One thing I have learned in choosing the clothes I wear is that the design or style makes no sense if you are not comfortable while wearing it or if you are not feeling a hundred percent confident on them. A perfect outfit is best described with a positive attitude, a positive aura and a perfect fit.