The promenade, or more popularly known as the prom, is one of the most memorable and exciting events of growing up. It is an awaited time for every teenage girl who finally emerges to womanhood. Each young lady would want to be dressed in a glamorous gown as the spotlight fixes on her when she dances the night away with the man of her dreams. If you wish to make a dramatic entrance during your prom night, be inspired to wear a piece of those fabulous and glamorous prom dresses which will turn you into the most captivating swan in the party.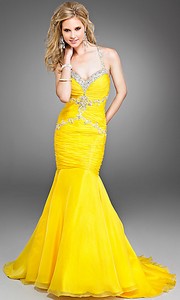 Major attractions during prom would include the prom dresses. The night becomes splendid and dazzling as the lovely ladies sashay the dance floor with their bedazzling and chic gowns. Some teenagers would have cleaned up their savings and bank accounts just to look magnificently perfect on their prom night. However, this does not necessarily have to be the case. Many affordable prom dresses are available at auction sales. You can also avail of discount prom dresses in boutiques and prom dress stores. There are glamorous but cheap prom dresses under 100 dollars in different colors, styles and designs in the market.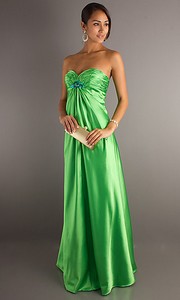 Prom dresses come in a variety of shades and designs that will flaunt your God-given beauty. These styles which come in different sizes accentuate your body, turning you into a much adored princess. Thus, if you want to be dressed glamorously for your prom event, you need to identify the best style, color and even the size of dresses for prom to look perfect on your most anticipated night.
How To Choose The Perfect Prom Dress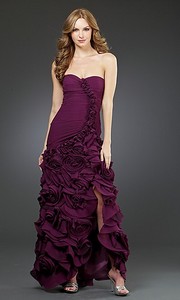 Choosing the best dress to wear on your prom entails a lot of crucial decisions to make. You cannot just wear any kind of dress without taking into account your appearance. Thus, if you want to look your best on your prom night, select the best dress that can transform you into a sophisticated lady.
There are several important factors which you need to consider in deciding on the best dresses to wear on your prom night, in order to become a gorgeous belle of the night. So, consider the following:
Your Body Type
Searching for the best prom dresses to wear on your most memorable prom night depends on your body's physique:
• Busty shape: If you are one of those women blessed with a large bust size, you can flaunt your femininity with dresses which have flattering and elegant necklines that formally cover and support your bust area to make it more enthralling. Your dress must draw more attention to the collar or neck portion and not to the chest. Beaded gowns and halter-top dresses will help your bust appear more proportionate to your body. You can also reveal more of your feminine side by showing off your legs.
• Petite size: Long prom dresses fit perfectly on petite girls. However, if you want to expose your legs, asymmetrical hemlines would be a good choice. Ruffle dresses are also recommended for petite ladies, to add illusion to their height and appear gorgeously attractive and leggy.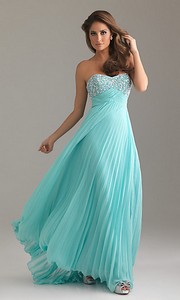 • Hourglass: This body type is the most attractive. It perfectly fits all kinds of prom dresses. Ladies having this body type need not exert much stressful efforts to add flattering features to their dresses. Wearing long prom dresses will still highlight the curvaceous figure of your body and get the spotlight's attention. Gowns that emphasize the hourglass' strongest feature which is the waistline, include sweetheart-neckline dresses. Halter-top gowns display your well-defined shoulders; while V-neck dresses lengthen your body. Mermaid prom dresses also fit best the hourglass-shaped body.
• Plus size: If you find difficulties fitting in those shapely dresses for your prom, you can instead widen your search to plus size prom dresses. Many attractive plus size prom dresses are designed to give you a fuller sexy appearance.
• Slender: If you have a slim and lean body, a short A-line dress will enhance your body's hip area. Short prom dresses will emphasize your thighs, creating a shapely appearance.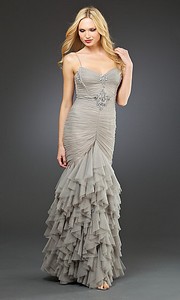 • Pear shape: A-line or full skirts with fitted tops are suitable for females who have pear-shaped bodies.
• Apple: Apple-shaped bodies can make use of their waist to capture the attention of the people. If you want to show off your athletic legs, a short prom dress will be your best bet.
Choosing the best dresses for prom involves meticulous decision making. Aside from determining the shape of your body, you need to compliment the colors of the prom dresses to the shade of your skin and hair.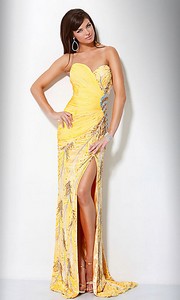 Your skin complexion
Determine the color of your skin. Your dress should match the complexion of your skin, so that you will not look like some annoying mascot or cartoon during your prom night. Choose those glamorous dresses that boost your stunning appearance all the more. Your hair color also has its own contribution in making you into a stunning belle of the night. If you have a very light skin tone with blonde hair, pastels would be a great choice. However, you should avoid wearing those bold colors like brown, orange and red.
On the other hand, if you have a light skin tone with black hair, ivory, pastels, black and blue prom dresses are ideal to flaunt your elegant and spotlight your friendly beauty.
Dark colors, such as those of black prom dresses, are very capable of hiding those not very comely body sizes to give you a slimmer appearance. Furthermore, if you want to use your hair and face to capture the crowd's attention, solid colors are definitely the best choice to expose your strongest asset. Dark colors will make you appear sedate and mature; while light colors will make you appear calm and elegant, like a white prom dress and pink prom dresses which are perfect as junior prom dresses. However, if you love to wear light colored dresses, make sure to wear some attractive accessories to add more elegance and attraction.
Budget Friendly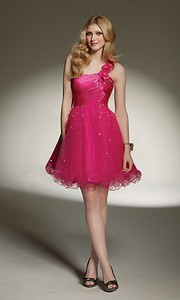 Of course, it is best to consider the capacity of your pocket. However, it doesn't mean that you cannot wear those shimmering dresses for prom. Numerous prom dresses cheap are of excellent qualities and designs. In fact, some of the designers' prom dresses are available at very reasonable prices.
Be Yourself
Choosing the best prom dresses that will perfectly fit your personality will make you more noticeable in the spotlight. It will give you more confidence and will create uniqueness that will separate you from the crowd, capturing the attention of the spotlight. Just be yourself.