Is your big day coming up? Haven't done a diet for that dream wedding dress? Worried of being a plus size? Do not fret my friend, as there are plus size wedding dresses available on couture shops everywhere. But of course, weddings are milestones to every woman so it is just right to explore different dress shops to have that one perfect fit wedding dress. You can either have a pre-made gown or of your own design.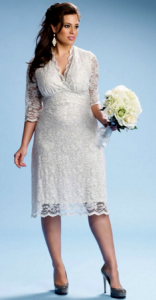 Weddings are said to be bride centric but the highlight of this event is of course how the bride's gown would look like and how perfect it fits on her. This is also said to be a woman's dream come true that halts her single life but starts her new career as wife and mother. It is indeed a milestone so definitely this calls for an extravagant dress. But how do you choose your wedding dress? It usually depends on the body type you have. There is this common saying that dresses are just for the slim and slender but that isn't true. Whether you are petite, plus size or just too slim, there is a perfect dress for you.
When short plus size wedding dresses came in, it did revive the dreams of women who had problems with their weddings. They usually have issues with their sizes and that made them hopeless of a perfect wedding. Therefore, with the short plus size wedding dresses available in the market, it brought their confidence back again. This short, plus size wedding dress was designed and was gradually crafted to meet the desired look of the bride on her most remarkable event in life.
Some points you may want to consider when getting wedding dresses when a plus size are the flares, the strength of the fabric and the texture.  One should also assess her body type if picking a wedding dress. Like for women with wider lower half than their upper or the "pear" shape, you may opt to dresses that flare down from the bust. This design hides your wider waists and hips. Next is women with bigger uppermost than below or the "apple". With this body type, since the lower part is smaller, detailing below the waist is encouraged. Details like pleating, tiers or fluffy fabrics create the illusion of bigger hips and trimmer waistline. The most almost perfect body type is the hourglass. This mostly fits all.
Weddings mostly need a heck of a budget so it must be planned ahead of time to avoid any flaws on the day of the wedding. Since we have discussed body types for perfect wedding dresses, you may want to consider cheap plus size wedding dresses. They always serve their purposes and has the same effect but cheaper. One does not necessarily need a costly dress if you can find a perfect wedding dress, which is more affordable and pretty. Instead, you can add that budget on other aspects of the wedding like in the reception or food.
Weddings are once in a lifetime, I mean mostly, so it does not matter whether you are a plus size. It should not stop you from having a happily ever after.