Buying plus sizes clothes can be quite daunting before, much more when buying plus size lingerie because of the limited options and sizes available. However, due to the changes in the average size of people especially for American women, plus size lingerie are actually more available now offering wide options for women with plus sizes. A lot of industries are now focusing their production on clothes, dresses, and lingerie on plus sizes.
One mistake women do when buying plus sizes lingerie is that they tend to opt for the size that are quite smaller than their actual size to make them look smaller. However, buying lingerie that is smaller than your actual size will actually make you look bigger because of the excess skin and fat that will probably show all over the place if your lingerie does not fit your body well. It is important to choose the lingerie plus size that will perfectly fit your body size especially when it comes to plus size bras and panties.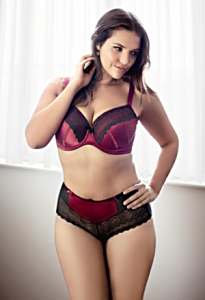 Every woman can definitely look sexy even with lingerie plus size. You just need to look for the right pieces that will accentuate your sexy curves and will strategically hide those unwanted curves. One of the best ideas when buying plus sizes lingerie is to opt for comfortable materials like silk. All types of lingerie are now being made using this soft, silky material like night robes, undergarments, nightwear, and baby dolls.
To strategically hide those unwanted curves but still look sultry and sexy, you can look for baby dolls with laces especially in black or red colors. If you search online, you will find a lot of baby dolls and sexy nightwear in silk and laces, and are all available in plus sizes.
If you are looking for plus size bras and panties, going for black color is the safest choice but you can explore other hues and color combinations as long as it compliments your skin tone. Look for the plus size bra that fits your breast size comfortably and properly. There should be no excess skin on the sides or above the cup and the strap should not ride up but not too tight that will make your breathing difficult. The general rule here when buying bra is that it should feel snug. If it makes you feel sexy, then it should also make you feel comfortable.
As much as possible, avoid buying plus size lingerie that cuts into your skin. Your undergarment should be comfortable as possible so you will also feel comfortable with the clothes you wear. Good-fitting lingerie is the key to a figure-flattering look so make sure that whatever you wear underneath your clothes feels snug and figure flattering as well.
To emphasize your assets like your bust and waist, you can also look for plus sizes lingerie that will help accentuate these areas like bustier and corset. However, lingerie like these is usually designed with boning to enhance shape and is also elasticised. If you are not comfortable wearing these kinds of tight garments, look for the pieces with less boning.
If you cannot find these kinds of plus sizes lingerie in your local boutique, one of the best places to look is online. However, when shopping online, do not depend on general sizes since sizes may vary from manufacturer to manufacturer. Ask for the precise sizing like in inches and the materials so you will know what to expect.