"TGIF!" or "thank God it's Friday" is a common expression among the youth that indicates the start of a weekend. This could mean the last day of a workweek or school week and which also means putting up your party dress. Being a plus size makes no difference although of course you must choose well your clothes when going to a party. When finding a plus size club wear, you must choose the one that is comfortable. A good tip also is that you choose that dress which will accentuate your physical attributes and will hide those unwanted parts like skin flabs.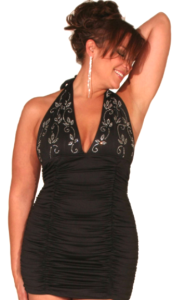 Plus size club dresses may look good on mannequins at first glance but it doesn't necessary mean that it would best fit you too so you better try it for yourself and assess the fitting of the dress before purchasing. But on this age, there are already many places to purchase a plus size club wear even on online stores but due to different body types of plus size women, I guess you may request for at least one week replacement period just in case it doesn't fit you well.
Clubbing may require minimal clothing but being a plus size makes it a challenge so you must pick your clothes very well. You must consider the design, the cut and even accessories to emphasize your curves. Plus size nightclub dresses may come in different colors but the most popularly used are ones in black as it has this impression of looking thinner. Some critics say that plus size women should avoid smaller prints as it emphasizes the fullness of the body. At times, this could work but I prefer instinct. If you think it looks good on you and makes you look smaller, and then go flaunt your assets. Anyway, confidence adds more approach that is positive. You may opt with dresses with some sexy laces, stockings, or leggings. It does hide those unwanted flabby skin yet it shows off your curves.
When getting plus size club wear, make sure you can mix and match it with other clothes on your closet so you can experiment sometimes. You do not want to make it boring wearing the same pair or dress every time you go clubbing. A diverse closet gives you more options on what to wear on what occasion or where to go.
Accessorize is one way to have that perfect clubbing get up. Belts for example are very good accessories if you want to hide or emphasize certain parts of your body. Heels would also go well along with your club wear. It not only makes you taller but slimmer as well.
Being a plus size woman nowadays is not a big deal anymore. You can be sexy in your own ways. Let those thick blazers and jackets go to rest and it is time for some reinventing. It is just a matter of having the right choice, confidence and positivity and you are off to a fabulous you.