One piece swimsuit is considered more modest attire in swimming than two-piece swimsuits because it covers the whole torso and supports the body from being exposed while doing outdoor activities. The essence of choosing the right one piece swimsuit not only lies in emphasizing curves and downplaying some at the same time. Worrisome as it may seem but shopping for one piece swimsuit for women can be as easy as ordinary shopping if they know their body type.
It helps a lot at the beginning to take your vital statistics. Measure the chest area, waist, and hips. Some one piece swimsuit can be made customized to fit certain body type, but some can be readily purchased at department stores and boutiques. Swimsuits should match the body type of the one who will wear it. It is essential to know your body shape for you to decide the right cut that will fit for you. If the hip is relatively wider than the chest and waist area, you have a pear shaped body. If the chest and hips are about the same width and the waist is significantly narrower, your body has an hour glass shape. If the chest and waist are about the same width and the hips are relatively narrower, you have an apple-shaped body. Lastly, if the chest, waist, and hips are about the same width, you have a straight body shape.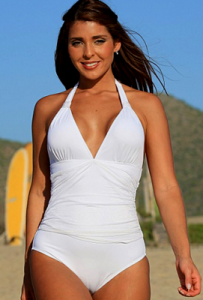 Once you have identified your body shape, the next thing to consider is choosing the right cut of the swimsuit. One piece swimsuit matches all types of body shape, they only differ on the cut and tone to emphasize or hide unnecessary curves. The right swimsuit should highlight your best feature by drawing the eye to the flattering parts of your body. For apple-shaped women, they should opt for high-waist with shirred panels over the stomach to help conceal extra curves. For pear-shaped women, they may add volume to the chest area by choosing swimsuit with plunging neckline and ruffles around the plunge. One-toned halter-top one piece swimsuits are suitable for hour glass-shaped women as it highlights the chest area and emphasizes the small waist. For straight shaped women, they should wear swimsuits with under wires. It gives the breasts an upward push making them look bigger and firmer.
The color and fabric of the swimsuit should also be considered when shopping. Choose bright colors with busy patterns to highlight your best feature. White one piece swimsuit is best worn by women who do not have any extra curves to hide. Plain as it may seem but it gives a classy and sophisticated look. . On the other hand, use dark and solid-toned swimsuits to hide your less-loved parts. Black one piece swimsuit gives the illusion of slimmer and slender shape but also emphasize skin tone. This is why fair-skinned women opt to wear it.
If in case you are still undecided on what right swimsuit you should wear, you can always ask for sales representative on the boutique to give you an honest assessment. You can also bring a friend along to ask for second opinion. The most important thing in choosing swimsuit is that you will feel comfortable wearing it.