The maxi dress is simply a long, sometimes floor-sweeping, gown that can be informal, formal, or both. Its versatility is part of what makes it the perfect addition to any wardrobe. This gown is a good starting point for any outfit. All you have to add is an accessory. The right jacket, shoes, bracelet or necklace will really add flair and style to a simple maxi. Every woman should have at least one maxi dress in her wardrobe. There are many reasons why a maxi dress is right for any closet.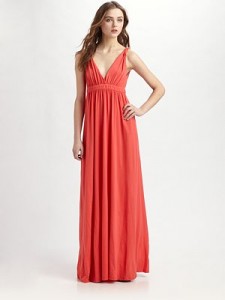 Suits All Fashion Styles
Whatever your fashion style, there is a maxi dress for you. This type of gown comes in so many different styles. It does not matter if your style is bohemian, classic, punk, casual, or chic. There is a matching dress out there for you. All you have to do is look. There are lots of different companies and online stores that offer these gowns. A good idea is to check a store where you already do most of your shopping. They will be the most likely to have a style that fits you.
Flatters Any Form
One of the top reasons why every woman should own a maxi dress is that they flatter every shape. Many of these gowns have an empire waist that will slim figures of all sizes. Some kinds even have an elastic waist that help you to emphasize your curves. Their flowing design can help you cover up those curves you do not want to be seen. These dresses are perfect for those who prefer to keep their legs out of sight. Most gowns are summery and without sleeves, however for self-conscious individuals there are styles available with sleeves. They even flatter tall and short women. No matter your size or shape you should not be afraid to try out a maxi dress.
Very Versatile
These types of gowns are very versatile. They can be worn to a formal occasion or to the beach. Many women now prefer maxi dresses for weddings. A black maxi dress can easily replace your unoriginal old little black dress. You can get them in many different fabrics as well. They come in anything from light chiffon to silky jersey and comfortable cotton. You can purchase a colorful ruffled number for the movies or snag one with a jeweled neckline for a night out. Halter necks and stripes are perfect for casual occasions. One shoulder styles and Grecian styles can be dressier. You can even find floral and bold graphic prints perfect for the office or going out for drinks. There are many options available for any circumstance.
Effortless Style
A maxi dress can be very easily styled. You can add many different touches to all the different styles. You can make an outfit work friendly with a fitted cardigan or add a chunky bangle for a bold look. Statement earrings go well with simple sleek numbers. You can choose to add bejeweled sandals or sky scraping heels. Just one or two stand out pieces can transform your outfit into something special.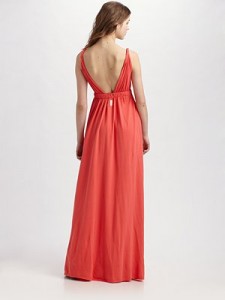 Fits Any Budget
You may be worried about being able to fit one of these fabulous pieces into your budget. There are plenty of cheap maxi dresses out there. You can try one of any a number of budget online retailers to find a decent cheap maxi dress. Finding maxi dresses cheap and many choices is just a web search away. There are lots of cute cheap options available all you have to do is look, my favorite is the black maxi dresses.
Every wardrobe should include one of these dresses. There are so many reasons to purchase a style. They will flatter any shape and will appeal to almost any taste. This lengthy style will be sure to help you make your own fashion statement.