In recent years, the market for mature wedding dresses has experienced a lot of growth. Now, styles in which women of any age can feel beautiful are available in most bridal boutiques and are made with the same quality and glamor as their counterparts. Whether you are shopping for mature bride wedding dresses for a first, second or third wedding, the following guide will help you find a dress that will help you feel glowing and beautiful on your special day.
The most important thing that a mature bride, or any bride, can do is to listen to herself. Ideally, wedding dresses for mature brides will telegraph their personal style and be a more glamorous representation of who they are in everyday life. In some cases, this can mean a demure satin gown, while for others it may mean a princess dress with a lot of embellishment. Regardless of your age, or whether you have been married before, you should feel empowered to pick the dress that most speaks to you.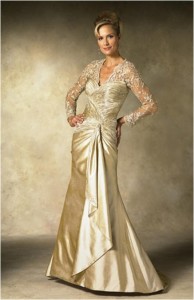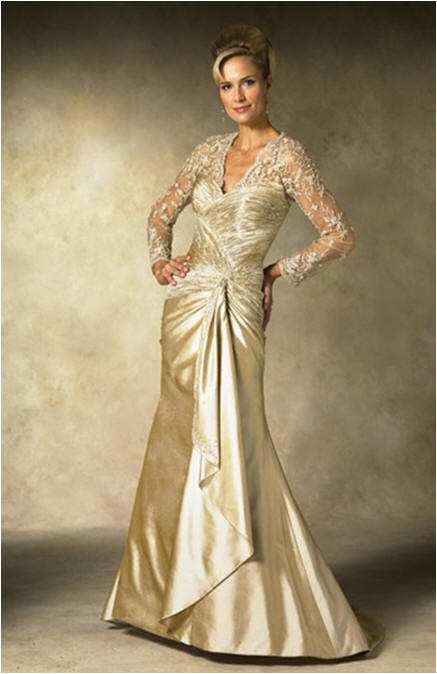 While conventional wisdom once held that mature wedding dresses should not be white, that is no longer the case. However, if you would prefer to opt for something else, you will be greeted by choices in almost every color imaginable. Champagne hues are popular choices for brides of all ages. This is a color that is almost universally flattering, can be worn in any season, and is luxurious and chic. Deeper hues, such as a rich green, purple or even red, also make beautiful wedding dresses for the mature woman, and are eye catching enough to ensure that you stand out from the crowd on your big day.
Many mature wedding dresses are cut more conservatively than the bare, strapless styles that have become so popular in recent years. When shopping for a dress, do not let a desire to be conservative narrow your search too much. Most boutiques are happy to add sleeves, shawls or raise the neckline at the bride's request to make her feel more comfortable. Those who are willing to make alterations to their mature wedding dresses will find that they have a great selection available to them, and may even be able to customize their dress significantly at little extra cost.
If you are a mature bride that will have a more reserved wedding day, sometimes shopping at your favorite department store is the best way to find alternatives to mature wedding dresses. Evening suits and cocktail dresses can make sleek alternatives to a more traditional wedding gown. Practical brides love that they will be able to wear these outfits multiples times, and frugal brides adore their lower prices. Since it is a day when you will be the center of attention, do not shy away from sequins, interesting tailoring details, or eye catching accessories. These will ensure that, even though you are not in a traditional gown, all eyes will be on you.
There are now far fewer rules governing what makes mature wedding dresses appropriate than there have every been before. Regardless of the stage of your life in which you are marrying, you should feel free to let your sense of personal style, and your mental picture of your wedding day, guide you to the option that most suits you. Whether you are looking for a white princess gown, or a chic evening suit, both bridal boutiques and department stores are well stocked with options that are sure to please even the most discerning bride. If you do buy off-the-rack, remember to visit a tailor, to get the perfect fit in any outfit you choose. This small step will make you look more polished and picture perfect on your big day.