Whether they are modern or vintage lace wedding dresses, the look that either will give to any bride is timeless beauty. And this is certainly evident with Kate Middleton's dress, which lace appliqué bodice has been made using a technique originating in the 1820s. You could expect this coming from a renowned British designer, but even with a simple but carefully-crafted wedding dress made from lace, that timeless beauty just shines through.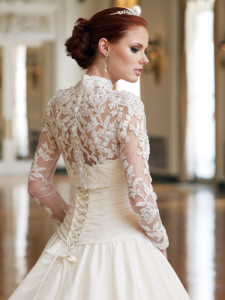 True lace only existed not until around 1600s, and to date, it is still one of the most sought-after fabrics for creating intricately-designed wedding gowns. Commonly crafted using cotton thread, lace has been available in a variety of forms, each of which is unique based on the way they are made.
Alencon maybe the most sophisticated among all types of laces. It is also the most costly, but this luxury lace will definitely not disappoint. Because it's heavy duty, Alencon is often used in lace wedding dresses that need to hold materials like beads or glass.
Chantilly is a type of Bobbin lace, which is created with a pillow and bobbins. This style is popular because of having an outlined pattern of flowers with abundant detail. The best lace wedding gowns having this type of lace uses silk, but a combination of silk and linen is also available. This serves as the cheapest among other lace types.
Duchess is another type of Bobbin lace. Brabant's duchess, Marie-Henriette, liked it very much, hence the name of the lace. There is the Brussels and the Bruges Duchess lace. The former is more sophisticated, where fine threads are used to produce a tall floral motif, while the latter is simpler, where the thread used is bigger to create trefoils, daisies, and apple tree flowers.
There is also the Venetian needle lace or Point de Venise, which used floral patterns and extra floral motifs to give contrast to reticella or point coupe, where threads from linen were pulled to create a grid. The Spanish lace is a type of Venetian lace originating from Italy. The design is a series of flat roses on mesh background.
The Guipure is created from heavy buttonhole machine stitches, with the pattern layout being a coarse mesh net. This is also known as the French Bobbin lace.
Ribbon is a technique that uses a ribbon cord to stitch together a couple of opposing edges randomly over mesh or netting.
The Chemical lace is a type of embroidery used to make a modern lace wedding dress. Also known as Schiffli, this type of lace was made by hand in the past, but modernity allowed it to be created using machines.
Whether it is a lace dress that's created using simple designs, or it's one of those sophisticated wedding dresses with lace back, what you're going to get is classic elegance that doesn't seem to fade away. When your wedding budget doesn't have a limit, you might want to go for the luxurious Alencon. On the other hand, brides seeking to save some money may want to go for the Chantilly lace.