Fashion has its own way of cycling its trends and I guess same way goes with lifestyle. The world has indeed may had advanced to the next phase when it comes to lifestyle. Everyone has been talking about fitness nowadays. They have been more conscious regarding health and living healthy. Despite busy schedules at home or at work, people seem to joggle and manage everything so well. Different kinds of diets were invented and introduced to the public. We have the popular south beach diet, low carbs diet and high protein diet but of course it does not end with the food we eat but we also need exercise.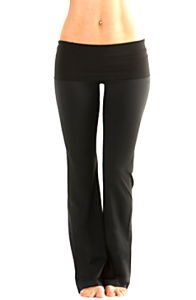 One of the most widespread kinds of exercise is yoga. Yoga is a system or set of breathing exercises and postures that help the body regulate blood circulation while keeping the body well toned. But before you start attending yoga classes, it is recommended that you at least have the basic needs for yoga class which includes but is not limited to yoga mat, comfy clothes such as cotton shirt and yoga pants. Yoga is mostly attended by women so basically there are lots of yoga pants for women everywhere. Yoga pants are typically made of cotton, spandex, nylon and polyester of light synthetic materials. They are specially designed for yoga and other type of physical exercise, which involves stretching, bending and reaching.
Women in yoga pants are sometimes also used for outdoor activities such as going to malls, parties, and a walk in the park but never to formal events such as weddings. There are different types of yoga pants; some of the readily available types are the boot cut and flared yoga pants and full-length tight yoga pants. It usually also come in black which seems to be the bestseller color and next would be in gray. Yoga pants also have a special design fold over waistband to provide more flexibility, comfort, style and versatility.
As fashion is concerned, yoga pants for women are designed to be dressier. As mentioned above, it can function as your exercise suit and everyday clothing too whether you are meeting a friend for a short chat or fetching some goodies on the supermarket. You can top your tight yoga pants with just some loose cotton shirt and some flip lops for your feet. Sneakers or rubber shoes may also work well with your yoga pants but heels do not really go in handy with yoga pants. You may also accessorize your look with some bangles or with a long necklace.
Most important thing before purchasing your pair of yoga pants is that you feel comfortable while on it. You must feel confident while wearing your yoga pants since it is form fitted due to its main component, which is spandex. If you do not feel comfortable or confident while trying the pants, ditch it and get a new one. You must be comfortable with it so not to distract your routine although wearing your yoga pants more often makes you build confidence in your yoga pants.