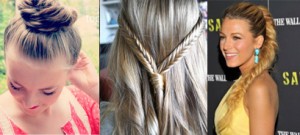 When you think about braids you mostly think of the sun, sand and heat.  This year, the braids have transcended into the fall season and are better then ever.  There are so many different braids that you can create, whether you're on the run or have time to spare these styles will add flare to any outfit.
The fishtail braid has to be one of my favorite braids no matter what the season. It definitely doesn't seem to be going away for the fall and there's so many different ways you can wear them! Below i've come up with a few ways I LOVE to wear my fishtail braids. Comment below and let me know if you have any favorite hairstyles for fall!
Half-Up Half-Down
This hairstyle is gorgeous for the fall weather and is super easy to achieve. It doesn't have to be just a fishtail braid, you can even do it as a french braid or even a normal braid. It's quick, easy and great for you ladies on the go!
Tip: Make the hairstyle loose and leave some strands around the face for an effortless look 🙂
Side Braid
This style was huge for the summer and will not be going away anytime soon.  To make it geared more for the fall weather, try adding a hat and creating a loose braid. Although the loose look was in for summer, that still stands for fall although a tight fish tail braid never hurt anyone and is always a different way to wear the side braid.
Tip: You can create a fishtail bun with your side braid by just creating the side braid as usual and wrap the braid around the base. It's that simple! You can also create this look with a high pony tail creating it the same way!