As your special day is approaching, you could be having an overwhelming feeling of anxiety on what to wear. You may have not picked or finalized your desired wedding dress yet.  Every bride-to-be is driven to have an extraordinary wedding dress. An array of dazzling wedding dresses with elegant styles is available. Of course, you would want something trendy and a little bit sexy without showing off lots of skin. Flashing your back is one good way to spice up your wedding day. Putting on those backless wedding dresses without thinking twice is one excellent way to make everything perfect.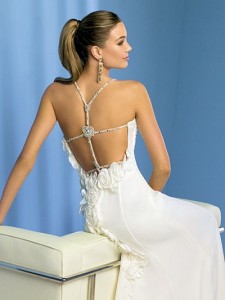 Backless Wedding Dresses Are Not That Showy At All!
You may have already seen lots of patterns and designs, yet you may have not made your final pick yet.  A wedding is considered your most special day; and time flies fast as you do the necessary preparations.  Since the special event will celebrate your last day as a single woman and the first day of being tied to your husband, you would want your wedding dress to be hot and sexy. If you choose a sexy design, everybody would most likely be leering at you. Showing your back is one great way to be sexy without revealing too much skin. It is more subtle to flash your back rather than show off other parts of your body; this is much more acceptable than letting your guests get a good view of your legs or your chest. Choosing backless wedding dresses is a chic way to be sexy without being too revealing.
Beautiful backless wedding gowns are available anywhere. You can wear them without losing your elegance and poise. You can also make it look conservative by adding long sleeves or a turtleneck.  Surprise your guests.  As you march down the aisle, they will initially see a conservative look; but, by the time you walk past them, they will be surprised to see your sexy back.
What Are The Advantages Of Backless Wedding Dresses?
Commonly chosen nowadays by brides are backless dresses. These styles have become the most popular trends.  They increase your sex appeal and make you attractive on your wedding. Instead of showing off your chest, you can flash that sexy back of yours without being conscious if you look too unconventional. You can also search for backless lace wedding dresses that have a vintage look. It makes the bride-to-be more elegant with those beautiful laces.  You can gather compliments with this look.
What Are The Disadvantages Of Backless Wedding Dresses?
One big disadvantage of wearing backless wedding gowns is that it does not suit women with an unflattering back, such as those with skin blemishes or a flabby appearance. It is not advisable to wear backless wedding dresses since those flaws will ruin your total look.  There are sure to be some photos of you with your back taken; and these might not be pleasing.
When you have finally decided to wear one of those wedding dresses backless, you will be required to do some beauty regimen, not just for your face and hair but also for your back to make you look perfectly gorgeous and flawless. If you have already made the final choice from the array of those beautiful backless wedding dresses, you will then feel almost complete and ready for your most awaited wedding day. March down the aisle with full confidence and give everyone a dazzling smile. Carry your wedding dress with confidence and just enjoy the moment as you are united in love and marriage to your fiancé. Nothing else is important but for you to be happy and have the most unforgettable memories of your wedding day.