Fashion and trends are very dynamic. In fact, these change very quickly. Almost every season, something new comes in and replaces the not-so-old one. Whether you are talking about dresses, hats, bags, or shoes, it is always true that trends change.
Among the aspects of fashion that consistently change are the women's ankle boots. From wedge ankle boots to lace up ankle boots, various styles come out every month or season.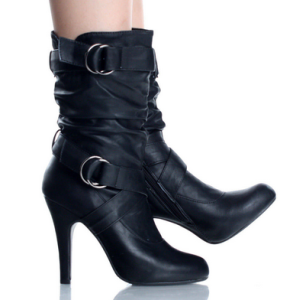 Ankle boots were already a popular wardrobe staple since the beginning as exhibited by the cowboys of Texas whose fashion statement is always worn with such boots.
Comfort and style – These two words best describe women's ankle boots. When you go out for a walk, the boots fit you snugly and every step taken is never bothersome. Additionally, because of its snug fit, you do not suffer from painful calluses at the end of the day.
Protects from cold – During the winter season, more people, including men, wear ankle boots precisely for the warmth it gives to your feet.
Fashionable – Because of the different styles of ankle boots available in the market today, there is always one pair of boots that will give you the perfect look to match your day's outfit.
Basically, there are two types of ankle boots that are popular among women today. Though they are primarily boots, they have been designed to look more stylish and fashionable enough to go around with either to work or for a night out.
Wedge ankle boots – Wedge ankle boots allow you to fuse comfort and fashion. The heels are normally high but not pointed. The front sole of the boot is flat and thin but gradually rises as it reaches the heel. What makes it comfortable is that since its heels are not pointed, you don't have to exert much effort when you take your steps.
There are many designs of these wedge ankle boots in department stores or even online. You can find the KORS Suede Lace Up Wedge Boots, Ted Baker Elkma Black Wedge Ankle Boots, Coach Farah Boots, Maison Martin Margiela Plexi Wedge Boots, Via Spiga Sophie Lace Up Boots.
Lace up ankle boots – The most common and original style of the ankle boots had zippers to close them. However, because man always finds a way to develop and improve fashion, another style of the ankle boots came about—the lace up ankle boots.
From the name itself, this type of ankle boots has shoelaces that run from near the front tip of the shoes up to the ankle or higher, depending on the style. Though tying the shoelaces can be a bit taxing, the impact the lace up ankle boots gives to your overall outfit is overwhelming.
Many brands manufacture such type of shoes today including Michael Kors, B Bryan Atwood Lindford, TopShop, Gucci, Charlotte Olympia, Dorrie Oxford, Faith Staines, and others.
If you have not tried wearing any of these women's ankle boots, then now is the time. It is always good to try out different fashion styles so that you can always wear a new look every time.