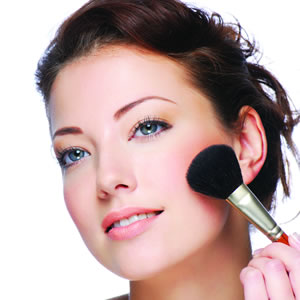 The holidays can be a hectic time of the year.  Between cooking large delicious dinners, shopping and  entertaining it can be hard to keep up with your hair and make-up.  Marie Claire has come to the rescue and given us 10 tips that are quick and easy during the busiest time of the year!
1. A quick way to a clean face
No time to wash your face? Try spritzing your face with some toner and patting your face with a tissue.  Voila! An easy way to soap up those oils and a quick make-up touch up!
2. Freshen up your hair instantly
If your hair has become greasy due to too many products, try sprinkling translucent powder over your roots, then brush through. Voila! Your hair is alive again!
3. Hydration, Hydration, Hydration
Sometimes the holidays seem to stress everyone out that even moisturizing your skin becomes a whole other task that takes up your time.  Try using hair conditioner and massaging it neck to toe and rinse.  Your skin will feel silky smooth without the extra step once you're out of the shower!
4. Fabulous Nails in 60 Seconds
For a quick manicure remove all nail polish, clean under your nails and massage the thickest lotion you can find into your cuticles.  Voila! Instant manicure that will give you amazing results!
5. Pink, Pink, Pink
Concealer can only do so much when trying to hide unwanted zits or flaws.  Wearing a warm pink helps distract people from your imperfections and draws people to your luscious lips.
6. Tame That Frizz
Frizz can come up at any moment and when you're in a rush it can seem like it takes too much time to tame.  To help out with the frizz dampen your hands and put a drop of hand lotion in your hands and spread throughout your hair.  Put your hair up in a french twist and voila you are now frizz free!  If you're not into putting lotion in your hair, moroccan oil will tame those frizzes in seconds, but always remember a little goes a long way!
7. Speed Up Hairstyling
When you're in a hurry the last thing you want to do is style your hair. A quick tip to speed up the process is to try your part and hairlines, "as long as the front and top of your hair looks finished," says Scrivo, "so will you."
8. Make-up Transformation from Day to Night in One Step
If you need to touch up your make-up from day to night the easiest way to transform your look is with eyeliner.  Darkening your eyeliner will give you a sultry night time look that can transform your make-up in just one easy step!
9. When in Doubt Wear a Pony
If you're really crunched for time, just throw your hair up in a ponytail and take a strand from underneath and wrap it around your hair tie. An easy go-to hair style that is cute and chic!
10. A Quick Revival After a Long Night
After a long night the last thing you want to do is be seen looking ridiculously tired.  Pat concealer in your inner eyes and under your lashes add some bronzer to your cheeks and in a snap you look alive again!