Haircuts For Women Over 40
Hairstyles for Women Over 40, when we were in our 20s, we could go crazy with our hairstyles. We could go super short, super long, super bright, super edgy, super feminine and perhaps all the other applicable superlatives about our haircuts. And we turned out fine. Society forgave us because being young is also in the same page with being experimental.
Now that we are in our 40s, the choices seem narrowed down to a chopped hair and nothing else. Fortunately for us, that is not entirely correct. All the hairstylists agree that choosing a haircut is a whole new level of adventure for a 40+ year-old woman. While you frequently changed your haircut in your younger years because you were still trying to know who you were, society is no longer a factor in your choices now.
The shape of your face, the texture of your hair, your personality and your lifestyle are just few of the major considerations in deciding which haircut to go for. You do not care anymore what your neighbor next door will say or how your friends in school will react. It is all about YOU this time!
A woman in her 40s is sure about herself and understands that she knows herself more than anyone else. So go over our list of haircuts for women over 40s, choose something you like and go from there.
• The Bob
This is a jaw-length cut and is one of the most popular haircuts in every salon today. A bob haircut is perfect for women over 40s because it looks elegant but is low maintenance. This cut has a lot of variations. You can ask for straight ends, layered, wavy ends or with full or side bangs.
• The Pixie
A pixie is perhaps the shortest haircut a 40-something woman can get. It is also called a boy cut or boyish cut for a reason. Thankfully, stylists made a number of ways to make it more feminine. In fact, since its birth in the 1950s, a pixie cut is a perfect balance if you want to sport an edgy but feminine look.
• The Mid-Length Haircut
This is a haircut that falls on the shoulder or a little way past it. If you're not a big fan of going short but still don't want that extra length, a shoulder-length definitely works on you. Your hairdresser will ask you how you exactly like it. So be sure that you have decided on whether you want it tousled, waved, or with smooth edges before heading to the salon.
• The Mid-Back Length Haircut
Most hairstylists suggest the mid-back length should be the cutoff point of a middle age woman. As a point of reference, a mid-back length is about two – three inches below your bra strap. Anything below that ages you down. You can still rock this length by carefully wearing it with waves and tousles to give you that extra volume.
Also consider having highlights or a new full hair color as it will conceal those gray strands. It is recommended that you go for warm colors as they will bring out your complexion, giving you a subtle youthful look without trying too hard.
Hairstyles For Women Over 40
You now probably have an idea of your new haircut. The next best thing to do is to decide on how to style it. Knowing new other ways to wear your hair is also a another factor you might want to consider especially if you are going for a haircut that can be styled in different ways.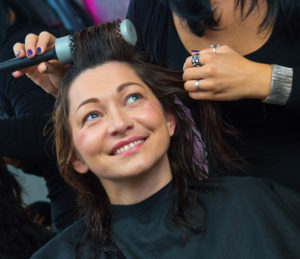 • When you're over 40, the hair becomes thinner as we age. So one general rule in styling your hair is to make sure it will give you volume. As much as possible, your hair should be drawn away from your face to accentuate your cheekbones. Doing this would also give an impression of a fuller hair.
• Adding bangs to your haircut may also work for you. A full fringe is helpful in concealing your fine lines. Side bangs will also give a softer touch to a bob or pixie cut. Bangs will give a layer to your hair for a more natural look. Just remember to stay away from toddler bangs or those that are cut straight-across.
• A short hair is a popular choice for middle-aged women because it highlights the high cheekbones and the jawline. However, you can still rock the long hair by giving it layers through soft beach waves or curls.
It is always best to consult your hairstylist before going on board. After all, whether short or long, any woman despite her age can choose any haircut she likes as long as she's owning it. Bring different pictures of celebrities sporting your preferred hairstyles and your stylist will discuss with you your face shape, hair texture, personality, and lifestyle as these are the more important things to consider in choosing a haircut that will work on you.